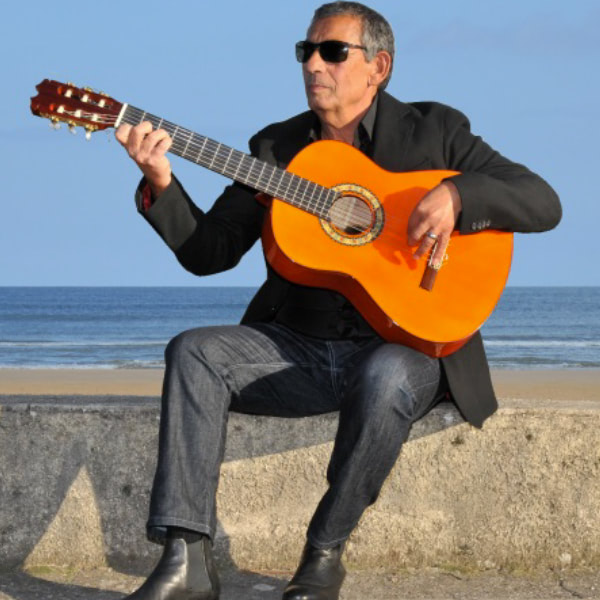 Diego Baliardo was born in Montpellier, France, on May 21, 1951, he grew up playing guitar with his brothers and co-founder of the Gipsy Kings.
The group GIPSY KINGS was born in 1987 under the leadership of two families from the south of France, the BALIARDO and the REYES, who decided to highlight Gipsy culture, and was made up of Nicolas REYES, Pablo REYES, Canut REYES, Patchai REYES, Andre REYES, Diego BALIARDO, Tonino BALIARDO and Paco BALIARDO.
Before becoming the GIPSY KINGS, the group was called LOS REYES.
The trigger came in 1978 when Saint-Tropez's most famous resident, Brigitte Bardot, invited them to host (or rather ignite) a private party. From then on, the group became the mascot of billionaires and is indispensable to any reception among the international worldly gratin
The group then became the symbol of the festival !!!
After that they decide to form the group GIPSY KINGS and quickly the success is at the rendezvous with a timeless title like "Bamboleo" that will give the name of the first album that will go beyond all borders to the point of becoming the first gypsy group gold disc in the United States and will win in 1990 the Group of the Year Music Victory.
In their 35-year career they have managed to stay for many weeks at the top of the bestseller lists, "Volare", "Djobi Djoba", "Baila me", "Hotel California", "Bamboleo" … Few bands can boast so many universal successes, and they even received the 2012 SACEM Award . . .
THE GIPSY KINGS, are still today the best ambassadors of gypsy culture, and remains the biggest record sellers of the genre.
Diego toured the world with the Gipsy Kings, they won a Grammy Award for Best World Music Album with "Savor Flamenco" in 2014.
The Gipsy Kings have toured the world as many years as their careers, they remain world famous, they have sold more than 20 million albums in their thirty-five-year career.
They remain the French band that has sold the most records worldwide.
Diego Baliardo has always ensured the artistic durability of the works of the Gipsy Kings by traveling the roads of the world with his group "Gipsy Kings by Diego Baliardo" composed of former members of the original group and the new generation.